Welcome from the Headteacher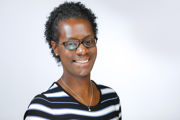 I am extremely proud to welcome you as Head Teacher of Langley Park Primary School. I hope that this website not only gives you the information that you need but also helps you to get a sense of what school life is like at LPPS and what values we hold for our children and entire school community.
Here at Langley Park Primary School, we work hard to create a caring, aspirational and safe environment for everyone to thrive. We want the very best learning experience for all of the children so that they are well equipped to succeed in the world as they grow into adults. We nurture all of our children and we know they will go on to make a positive impact in whatever they choose to do and will feel empowered to be able to challenge themselves to get there.
Our expectations are extremely high for the children, staff, governors, parents and all members of the local community who play a role in guiding our children. Whilst maintaining a family feel to our school, it is only through our collaborative hard work that we can ensure that we provide the very best for the children; the best education that they can have.
Our focus goes beyond the classroom and with a dedicated and committed teaching team, the opportunities that children have continue to grow year on year. Ensuring all of our children reach their full academic potential is of extreme importance to us but it does not end there. Langley Park Primary School children will leave their time here having grown into confident, articulate young people who have empathy, respect and passion at the heart of all that they do.
Should you wish to find out more about our school, do not hesitate to telephone to arrange an appointment.
Tel: 0208 639 5300
Email: office@langley-primary.org.uk
Mrs S Kluzek
Should you require paper copies of any of the information contained on this website please contact the school office on 020 8639 5300